By Geraldine Holliday
One of Fintech Cadence's flagship programs – Ascension – concluded last week with its 3rd and biggest cohort to date!
Ascension is a carefully designed fintech program that helps early-stage start-ups (pre-series A) achieve their next company milestone by connecting them to key industry experts in the fintech ecosystem. The uniqueness of this program is that it centres on delivering curated fintech expertise including regulation, financial institution partnerships, data management and sales. Since 2017, it has seen 32 fintechs graduate, 164 experts involved and 4 Canadian Provinces represented.
This year we continued to see the growth of the program reflected in the diversity of fintech verticals – they included: PropTech, Payments, Personal Finance Management, Alternative Lending, InsurTech, Cybersecurity and Algo-Trading. After 3 months of hard work, 13 Canadian startups graduated on April 28th from across Canada including: British Columbia, Ontario and Quebec; and many walked away with incredible prizes in our first ever virtual Demo Day (see end of article for full company list description and prizes awarded).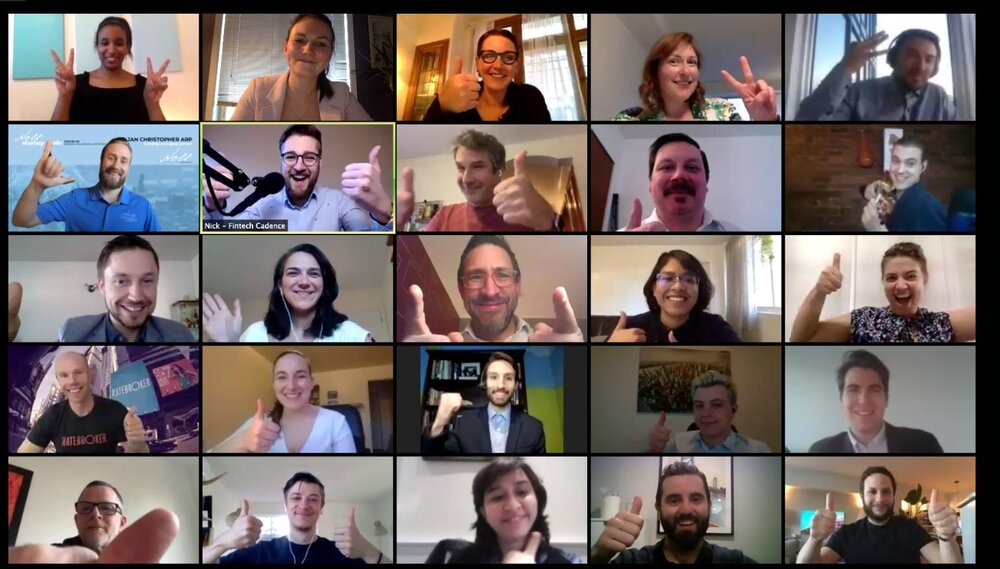 This year we also witnessed the launch of our new Business Fundamentals workshop series, where we were joined by Holt Accelerator on How to Pitch; EY on Hiring and Building the Right Team; IVADO on Implementing AI & Data Science in the Product Roadmap and lastly Lavery Lawyers on Legal and I.P for the startups.
Pitch decks have an ask at the end, here's ours.
Though challenges and obstacles are nothing new for founders – Covid-19 has proven to be detrimental for young startups. We have been nothing but impressed at the resilience and perseverance of this 2020 cohort with their attitude and adaptability to the pandemic. Nevertheless, navigating the crisis can be difficult and more stressful and therefore we have an ask for you.
If you find yourself fond of some of these startups and you are someone that can provide valuable insights on the industry, how to navigate it, or even be able to connect them with someone that can help take them to the next milestone, please do reach out to these founders! You will find the contact information and complete list of the cohort at the end of the article.
So what's next?
We're excited to see what will come next for these founders and their startups. Some have already come so far, such as our 3 Coopérathon Finance Track teams who emerged with just an idea during the Fall of 2019. Whether it's launching their pilot project or raising their funding rounds, we know Canadians will benefit greatly from the solutions our graduating teams have developed.
If you are curious about entrepreneurship and would like to roll up your sleeves into the fintech sector, we invite you to join our fourth edition of the Formathon – a 3-week open innovation competition kicking off May 28th where you will get to work on real fintech challenges affected by Covid-19.
If instead you are an early stage Canadian fintech looking for support and connections to the fintech ecosystem, applications are now open for our 2021 Cohort – we hope to see you apply!
If you missed our Demo Day and want to see live pitches – catch up on it cliquez ici.
---
2020 Cohort | full list of participating startups
Sprout Financial | Connect with Matt
Sprout is an easy to use App that pulls all your financial data into one place and provides all the
necessary tools to completely manage & improve your finances.
PayPage  | Connect with Mark
PayPage is the simplest way to create a payment online.
Benefi | Connect with Patrick
Benefi improves the financial wellness of Canadian workers, by allowing them access to low-cost loans, financial literacy, and advice.
Think Twice | Connect with Natalie and Elisabeth
The aim is to improve the lot of users towards better decision-making with regard to their daily expenses by supporting them and not by educating them.
Leav | Connect with Charles-Etienne
The ultimate pay-at-the-table platform for high traffic restaurants and bars. Leav makes payments faster and lets you turn more tables everyday.
Tribou | Connect with Tayssa
A platform where women entrepreneurs diverse backgrounds can connect to diversified financial products easily through a matching system.
Peer Circle | Connect with Kevin
Peer Circle is a B2B marketplace created to take advantage of the digital technology to allow for the distribution and purchasing of insurance online by small and medium sized enterprises through their brokers in Canada.
Lenders API | Connect with Tal
Lenders API is an underwriting platform for alternative lenders.  Lenders API collects and aggregates suspicious borrower activity to help lenders prevent fraud.
Ratebroker | Connect with Jay
For people looking to buy financial products from home, who are time starved & underserved, we simplify their life by Anonymously Shopping the entire market for Free Forever, and by keeping track of their products.
Quantolio | Connect with Amine
Quantolio builds AI-powered software for financial institutions (hedge funds, asset managers, banks, insurers).
Timechain | Connect with Louis
Provide an international banking experience with discounted exchange rates through a peer-to-peer messaging service on mobile.
Emma | Connect with Felix 
We help millennials families to buy life insurance online and protect their loved ones.
BuyProperly  | Connect with Khushboo
BuyProperly is an online marketplace for fractional investments in real estate.
---
Full Details of prizes and winners
The largest cohort also means the biggest number of prizes and judges! We are grateful to our 10 ecosystem judges for their amazing prizes.
HoltXChange
Prize:  2nd round of interviews for the 2020 Cohort Selection
Winners:  BuyProperly & Timechain
Fin-ML 
Prize: 2 hour data science deep dive with Fin-ML team
Winners: Benefi, Think Twice & Lenders API
Luge Capital 
Prize: Consultation with David Nault & Laviva Mazhar
Winners:  Peer Circle & Lenders API
Desjardins Startup en Residence 
Prize: 2nd interview for Startup en Residence
Winners: Quantolio & Benefi
Expertus, une compagnie IBM 
Prize: $1,000 in Cash
Winner: Think Twice
District 3 Innovation Centre
1st Prize: Admission into the Launch & Grow Program 
Winners: Emma & Timechain
2nd Prize: Admission into the Validation Program
Winners: Quantolio & Leav
Flinks
Prize: UX, product and process mentorship sessions on how to optimize the use of banking data
Winners: Think Twice, BuyProperly & Timechain
FTGmedia
Prize: Customized PR Consultation Package & Training Plan
Winner: Benefi
Station FinTech Montréal
Prize:  $1000 in Cash
Winner: Think Twice
Portag3 Ventures
Prize: VC virtual lunch date with Andre Masse
Winner: Emma
Audience Prize Fintech Favourite
Prize:  Bonus $1000 in Cash by Fintech Cadence
Winner: BuyProperly