On July 27th and 28th, our 2023 Lab IFH Cohort kicked off the program with a two-day orientation session together in Toronto. The eight startups gathered in person and had the opportunity to network, hear from experts in multiple domains, attend workshops, and more. Let's dive into the orientation and its many insights!
Meet the IFH Lab 2023 Startups
IFH Lab is a program created for startups using technology to build solutions that drive forward the financial health of consumers and SMEs. This year's cohort comes from various fintech verticals, but they all share one thing: having an impact-driven mission. At Fintech Cadence, we're looking forward to supporting these startups on their journeys as they better the financial lives of Canada.
Meet the cohort:
Approva Financial: Approva is on a mission to change the mortgage process status quo.
In Charge Inc.: InCharge automates the sales prospecting process for financial advisors from the first touch point to conversion.
LyfeFund: LyfeFund is an education savings startup focused on supporting Africans in both the diaspora and back at home to invest in their children's future through education savings and tailored investment.
Padder: Padder is making it easier for independent landlords to manage their properties and tenant experience. They are on a mission to make renting a simpler and more manageable experience for everyone involved.
Paddio: Paddio partners with lenders to decarbonize their mortgage portfolios and support homeowners through their green retrofits.
Sai: Sai focuses on empowering artists and creatives to take control of their finances.
Tenure: Tenure is tackling the problem of disengagement and turnover in the workplace, which costs North American businesses over $1 trillion dollars annually.
Vambora: The Vambora Trust Profile bridges the gap between landlords and tenants, simplifying the leasing process for everyone involved.
IFH Lab kick-off overview
The in-person kick-off plays a vital role in the program experience, giving our teams the opportunity to connect with each other and build relationships of support and collaboration that will continue well beyond the four months of the IFH Lab. Over the two days, our new cohort took part in seven different workshops led by the Fintech Cadence team and expert guest facilitators.
Zooming Out and Zooming In: Day 1
Through the workshops  during the first day of the kick-off, we took turns "zooming out" and "zooming in." Zooming out to think about the big picture – how we make change and what defines our impact; and zooming in to think about our practice as leaders and learners.
We all know that building a startup is about executing on a vision, and about getting different people to buy into that vision, whether as investors, customers, partners, or early employees. That means not only being able to tell a good story about the big-picture change you're making in the world but also understanding and demonstrating how that vision and values translate and are embodied in your company culture.
Day 1 started with a workshop on s Systems Thinking with  Jerry Koh from New Power Labs. Jerry introduced startups to 'wicked problems' –  "Problems that have multiple, circular, non-obvious relationships between causes and effects….where the conventional ways of problem-solving don't work anymore." As we explored what it really means to be a mission-driven business, the startups worked through answering three key questions:
What is your mission and vision?

What level of the system are you directly and actively trying to change?

What can be different in 5 years?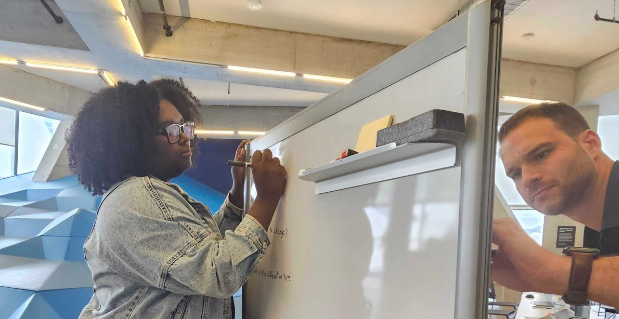 Jerry explained that "A mission-driven business has super powers to combat wickedness," and that the fintech industry has a unique awareness of this, due to its positioning in relation to legacy systems. He encouraged participants to go even deeper, with important questions like "Why are the current systems in place this way, and how can I change those systems based on the current context and constraints?"
Zooming back in, we ended Day 1 with a Product-Market Fit workshop from Product Hacker Christopher Bardos. Chris has noticed that Product-Market fit is a term that gets used to mean very different things by different people, and can even find its meaning shifting depending on broader macro- contexts like interest-rate hikes and recessions. Yet with most startups failing because of poor product-market fit, understanding this crucial milestone in the startup life cycle is vital!
To combat this confusion, Chris walked the startups through the unique Product Hackers "Product Commercialization Triforce," emphasizing the critical role of a clearly identified beachhead market as a lens for assessing whether fit is achieved. The founders completed a report card which will serve as a guide over the next month of the program as they meet one-on-one with mentors and industry experts to hone their Product-Market Fit and Go-To-Market Strategy.
Leading By Example: Day 2
On our second day of workshops, we asked the founders to think about what it means to be an effective leader, and the relationship between impact and company culture. We were fortunate to be joined by Morgan Toane, Manager of Coaching, Development, and Inclusion at Koho and certified team and individual coach. Morgan spoke to the founders about the importance of spending time early on to define your company's core values.  His workshop and hand-on activities got the founders reflecting on why, as impact-driven startups, it is particularly important that their internal company culture reflects the change they want to see in the world. 
Being an effective leader often means being a learner first, seeking out advice from those who've been there before. We welcomed Bruce Hodges, Founder at Parachute, Douglas Belford, Director, Wealth Strategy at Seedwell Inc., and Aman Nabi, Associate at Information Venture Partners for a Fireside Chat to share their advice on finding, choosing, and working with advisors and industry experts. In a moderated conversation, they explored tangible tools and soft skills the startups would need to make the most of the IFH Lab program.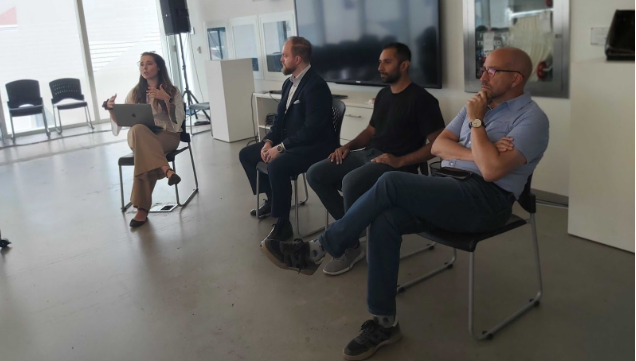 One of the most valuable parts of the IFH Lab program is the sense of community that the cohort founders build with each other. Being an entrepreneur can be stressful and isolating. Burnout often feels like it's hiding around the corner of your never-ending to-do list. During Day 2, Olga Cruz, Senior Associate at Good & Well, discussed the importance of managing and making time for your mental health as a founder. She led our second afternoon of sessions, starting off by leading the founders through an easy breathwork exercise and guided meditation that they could implement when they returned to their workplace.
With our minds cleared, calm and energized, Olga brought all of our conversations from the last two days together with her final session on impact measurement. A strategy or framework for measuring impact is key to finding tangible answers to complex questions such as: how can we know whether the change we are working so hard to effect is occurring? How can we be sure that we are serving our customers for the better, or having unintended consequences on their financial wellbeing? The startups worked with Olga to begin building an impact measurement framework that can grow and evolve as they do. Refining the work they did with Jerry and Chris in Day 1, they created a set of metrics mapped against outcomes. These frameworks become valuable tools to help them more concretely communicate impact and get buy-in from their teams, potential investors, and even customers.
What's Next for this Cohort?
Now that we've kicked off this year's IFH Lab program, what's next? The four-month program will include 1:1 meetings with advisors, office hours, speed-dating sessions, and two more in-person events, including a Demo Day. In addition, we'll facilitate optional Fireside Chats and Virtual Workshops for the startups to participate in. These learning opportunities build on the strong foundations created through the work we did in our kick-off. We want to express our deep gratitude to the amazing guest speakers and facilitators for their generosity with their time and expertise. Thank you to the sponsors of the IFH Lab program, JP Morgan Chase and the City of Toronto, for their ongoing support. And most importantly, thank you to the startups for joining us on this learning journey.
We can't wait to see what the next 16 weeks have in store for this year's IFH Lab Cohort!
Learn more about IFH and join the 2024 Program's waitlist here.