From May 25-27, 2022, Fintech Cadence welcomed the third cohort of the IFH Lab with a bang – three days of in-person workshops, our first in-person mentor speed-dating in over two years and of course, a party! From a strong pool of applicants, to a tough round of interviews, down to a group of 8 diverse startups who are building inclusive, impact driven Fintech, we were incredibly excited to announce the 2022 cohort last week: Billi Labs, Chroma Technologies, coCare, Flota, Kunye, Requity, Solvncii, and Walletifai! 
From personalised financial management to community-based lending, from debt counselling to home ownership, from remittances to rent smoothing – the teams are tackling a wide range of contemporary challenges at a time when, with a recession looming, the financial health of Canadians could not be more vulnerable. It's also not an easy time to be a startup – raising funding for very early stages amidst declining markets is challenging and bootstrapping a company is stressful in normal times, let alone as inflation skyrockets. But as we saw with the IFH Lab alumni through the pandemic, hard times are also when strong teams who are focused on building products that meet a real need, can flourish; especially when they get the support, mentorship and access that they require. That's why our work at Fintech Cadence is so important, now more than ever.
The first cohort of the IFH Lab ran in 2020 – 4 startups, 3 months, the support of countless people and partners including founding sponsor JP Morgan Chase, our partners at Prosper Canada, and of course our unbelievably generous network of industry experts and mentors that just keeps growing.
At the end of 2020 the COVID-19 pandemic took all of us by surprise. We adapted, adjusted and pivoted. Collectively we stumbled and found our bearings. Thanks to an amazing team and the continued support of our Founding Partner JP Morgan Chase, the support of new Champion Partner Meridian Credit Union, and Program Partners the Canadian Bankers Association, and the City of Toronto, we were able to build on and expand The Lab and ran a second cohort in 2021 – 8 startups, 6 months and all-virtual programming.
Our startups from cohort one and two have thrived, even through some of the most turbulent years I personally have seen in my lifetime. If anything their products and services have proven even more essential for their clients, rocked by a pandemic whose economic and financial consequences are still playing out. We also saw that digitising many services, including if not especially financial services, is not only inevitable but essential. The 12 startups we have worked with since 2020 have gone on to raise over $11 million in financing, they have grown their teams many times over and with that their capacity to help over 25,000 customers live financially healthier lives now, and into the future. And I suspect we have some more exciting announcements coming soon. 
The kick-off to 2022 was an incredible three days that reinforced for me personally, why we do what we do. From revisiting the fundamentals in Joseph Wilson's Value Proposition workshop, to dipping our toes into some UX and UI with Anne-Marie Mulumba, and then taking a deep dive into system's thinking and impact measurement with Jerry Koh and Olga Cruz – we covered a lot of ground! I can't talk about all of it here, but I wanted to share some of my highlights and takeaways from the week.
Selfishly, Day 1 is always my favourite because it's the day that I get to spend most time with the teams. Also, this year we hosted our first day out of Ryerson's DMZ Sandbox, where they have a very cool, and climeable, giant blue iceberg.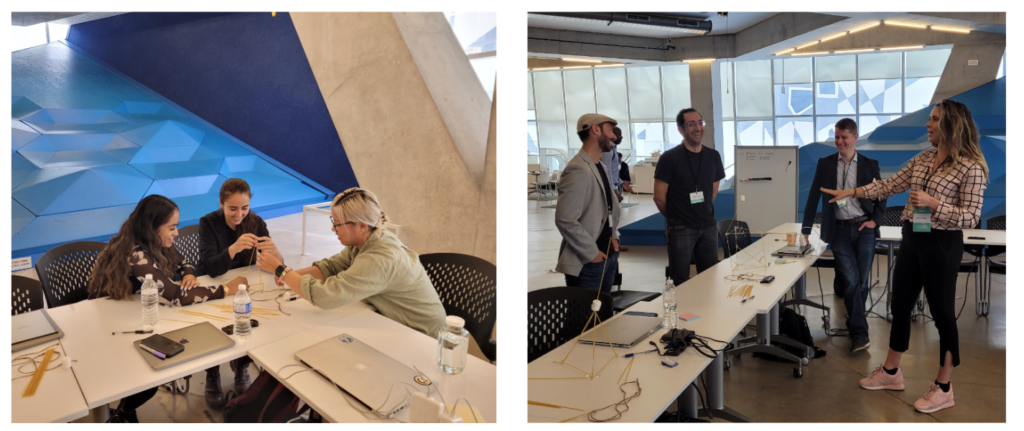 Teams get mixed for a spaghetti tower ice breaker.  
We kicked off the morning with a classic icebreaker: the Marshmallow Challenge! On top of just being a fun way to start a long day, I encourage you not to underestimate the importance of the humble icebreaker. Year after year we see that one of the biggest value adds from a program like The Lab is the connection to a peer network of other founders, peers who are going through the same journey and struggles. Not to mention the wealth of experience and knowledge in the room – all of the founders are experts in their own right! On top of this, we've found that establishing trust, communication and connection between the founders right off the bat makes it easier for them to collaborate and share in sessions, and out.
Building off of the connection made during the icebreaker, day 1 is spent learning about each other, creating comfort in giving and receiving feedback and advice, and exploring the question "Why?". 
In our Origin Stories workshop (led by yours truly), founders are asked to write and share their founder journey, explain why they started their company, and what keeps them going. We talked about how founding stories can be powerful tools for bringing people on board in the early days; early customers who see themselves reflected in the story; early investors who know a startup is a risky bet but who believe in the founder; and even early employees like Andrew Smith, CTO of Requity Homes. Andrew shared how, as a person with a previous career as a self-employed arts worker, the story behind Requity Homes spoke to his own experience of struggling to be recognized by mortgage lenders and FIs because of the non-traditional structure of his work and how it was a driving factor behind his decision to take the job.
The startups were given a framework – the inciting incident, the problem, the mission, and the audience – and asked to think about the feelings they wanted to evoke, the turning points and the takeaway we should be left with as an audience. I always find it inspiring to hear these stories, and particularly to see the breadth of lived experience in the room. Myles Shedden, co-founder of Chroma Technologies, pointed out that you don't always need to have a deep personal connection to a problem to want to solve it. Sometimes the story might simply be that you saw that problem existed, that it negatively impacts people's lives, and you know you could solve it. Founding stories don't come in one shape and size. At the end of the day, a founder story serves a purpose – helping people understand the problem you're addressing is real, and why you're the best person to solve it.
Guest lecturer Joe Wilson, Education Consultant and specialist in the area of business model design, joined us for our next session on Value Proposition. Joe shared insights about the language we use (what does innovative even mean? Why are we constantly trying to "disrupt" things? And do we actually think customers want the systems to rely on to be disrupted!?) and walked the teams through a Blue Oceans Strategy activity that helped them identify uncontested market space they could access by selectively creating, reducing, eliminating and raising values.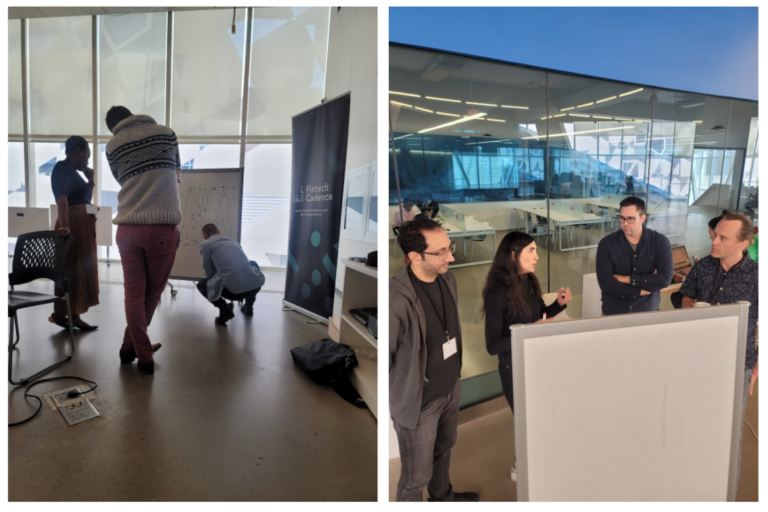 Finally we closed the day with a classic – the pitch session. Fintech Cadence's very own Layial El-Hadi led the startups through a workshop on perfecting their pitches (story arcs, knowing your audience, and you can't argue with results!) and then through 10 minute rounds of pitches, questions and feedback. It was a great opportunity to put into practice some of the learning from the day – incorporating origin stories and revamped language around value propositions into their pitches.
Our second day took place at the Centre for Social Innovation on Spadina – if you don't know about CSI, I highly recommend checking out the work they are doing to build a community of social innovators in Toronto. We had a packed day in their beautiful space, with a full morning of workshops, an afternoon of mentor speed-dating and a party. I started the morning with a surprise announcement – the startups would be giving their 60 second elevator pitch at the kick-off party in front of 100+ guests (if looks could kill 😉).
We were joined by guest lecturer Anne-Marie Mulumba, a Design Thinking Facilitator at Concordia University and an expert on UX strategy for social impact. Anne-Marie talked about the importance of considering culture and context when making UX and UI decisions, and helped the startups begin to understand their products as nodes within a larger system of tools and touchpoints that users experience their world through. It was a great lead into our working session, a favourite of mine – User Testing! 
The teams came prepared with a testing plan – 5 to 6 tasks they would walk their "user" through that would help them test a specific aspect of their user experience or interface. Each startup set up a station around the room while testers (a.k.a. the other startups and Fintech Cadence team members) took turns visiting each of the stations. We spent a couple of hours rotating around the room, giving and getting feedback and practising how to engage in user testing.

Over lunch, we were joined by representatives of IFH Lab Program Partner, the Canadian Bankers' Association, including Aaron Boles, VP of Communications and Mathieu Labreche, Director of Media Strategy & Communications. Aaron and Mathieu shared the work that CBA does to advocate for public policy in Canada that contributes to a thriving banking system and mixed and mingled with the startups over some delicious lasagna.
The afternoon passed in a whirlwind of activity. Mentor Speed-Dating closed out our day, with each startup moving through four rounds of 30 minute meetings with mentor pairs. It can be an intense experience for the founders, with lots of sometimes conflicting information coming their way. Teams prepped ahead of time, researching their paired mentors and putting together questions and targeted asks. I walked them through some tips and tricks for facilitating meetings and encouraged them to be open to feedback, to take everything in and to reflect later on what worked for them and what didn't. Industry experts and startups alike were incredibly patient as our team dealt with the inevitable last minute changes and hiccups that come with an in-person event. But once we started, the energy, engagement and enthusiasm from experts and startups alike was palpable! 

No rest for the wicked as we jumped straight from speed-dating to getting set up for the big event. Our Kick-Off!
This year's kick-off was not one to miss! What a wonderful thing to be surrounded by so many familiar faces who share our mission of building more inclusive, accessible and equitable financial services through tech  – our industry experts, partners like Meridian Credit Union, CBA, and the City of Toronto, and so many long time supporters and advisors. It was particularly wonderful to see IFH Lab founder Elvis Wong and our OG teammate who helped us build the original IFH program, Marielle Voksepp. And amongst so many familiar faces there were even more new ones – welcome! I've never been more excited about the potential of the Canadian fintech ecosystem, and inspired by the specific interest in purpose driven businesses.
We got the night going with speeches – I recounted the story of the founding of the IFH Lab, Layial shared more on Fintech Cadence's mission and vision, and we heard from a guest speaker from our Champion Partner Meridian Credit Union. Ian McCann, Manager of Community Investment and Partnerships, spoke about why Meridian is partnering with Fintech Cadence through supporting our IFH Lab and Fintech Hub programs. He touched on how fintech can help build banking infrastructure that better serves clients, and how Meridian Credit Union is excited to take a leading role in finding solutions to pressing issues like housing affordability, financial literacy and equitable access to financial services.
The main event was, of course, the startups. The founders belied their nervousness and did an amazing job. It was especially cool to notice how some advice and learnings from the previous two days made its way into their elevator pitches.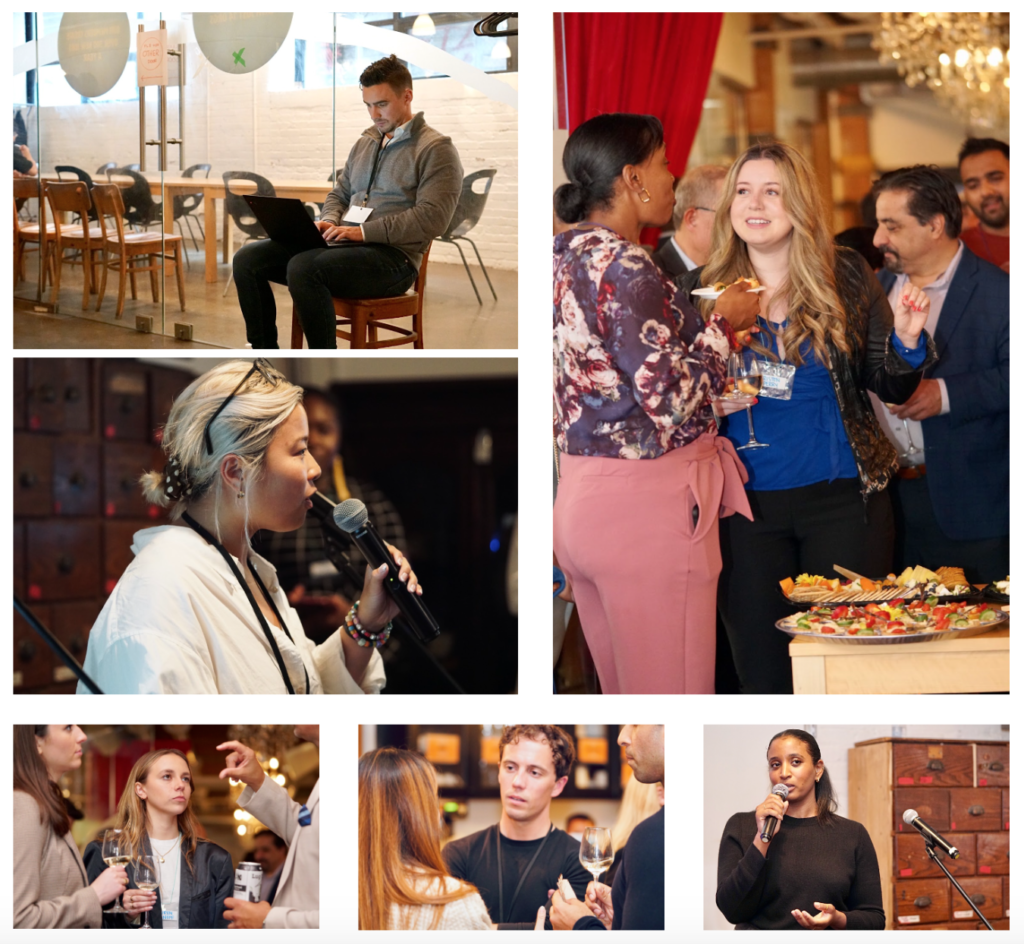 Just because it was our last day doesn't mean we took a break from learning. Jerry Koh, a leader in systems thinking at New Power Labs, and Olga Cruz, Senior Associate at the impact investment firm Good & Well, led a two hour workshop on all things impact. From conceptualising levels of impact and the six conditions of change, to formulating a theory of change, to building out an impact measurement framework. Jerry and Olga brought together all of the conversations we had been having over the past two days that were helping us uncover and build out our "Why", our values and our mission, and placed those within a bigger picture conversation about how we concretely deliver on the change we want to create, and measure it to understand if we are truly making a difference. 
With the kick-off under our belts, the work doesn't stop. We still have 5 more months of programming to build and deliver, and we will do so alongside our cohort of committed founders and their teams whose goals and growth are the driving force behind everything we do.
On a personal note, I will say that I have been floating on cloud nine ever since wrapping up day one of the program. What a privilege to get to work with so many people who share a commitment to building a robust and interconnected ecosystem of support for early stage fintech startups across Canada. What an honour to be part of building a community with shared values and vision of a financial system that doesn't just meet the needs of most Canadians, but that uses technology to reach those who have too often been excluded. And how tremendously cool to be part of a team that is actively making tech entrepreneurship more accessible to founders from all walks of life and backgrounds.
Thanks for reading, and until next time!