A report obtained by the Logic in 2016 stated that Canada's ICT sector is the smallest in the G7 and is continuing to fall behind other developed nations.
Numerous reasons are cited as to why the Canadian tech scene lags behind most countries around the world. Canada's head at Amazon Web Services mentioned last year that Canadian businesses are slower to adopt new technology than their European and American counterparts.Some say Canadian investors are risk averse and don't provide enough money for startups to grow and scale. Others point to the small size of the Canadian market as compared to that of the United States. Yet another group states that there is a lack of marketing and sales talent which causes startups to "get stuck" when it comes to crossing that chasm and reaching mass adoption.
Any, or all, of these could be the primary reason. Irrespective, there's one undeniable truth: if we don't create enough startups at the grassroots level, there will be fewer startups that will reach Series A.
A dire need
Startups are among the primary reasons for advancement in technology sectors. We can, therefore, say that if a country or province is to further enhance its tech arsenal, it needs to build more startups. If we were to extrapolate the same argument onto the financial services industry, then we can safely say that fintech startups will lead to faster and better tech advancements in banking.
Fintechs that we need now more than ever due to the impending threat that tech giants pose. In March this year, Royal Bank of Canada CEO Dave McKay expressed his concern about the FANG companies (Facebook, Amazon, Netflix, Google) sidelining banks by handling customer payments and eventually offering loans and accepting deposits (two functions that form the primary pillars of a banking institution).
But it's not as easy as it seems
Building a fintech startup, however, is harder than in other tech sectors. For one, fintechs have to navigate the stringent regulatory landscape – which is possibly the strongest in Canada. Second, entering into a deal with a bank – a requirement for most fintech startups if they are to scale and succeed – is no walk in the park. If we were to conclude from all the anecdotal evidence that we come across as industry participants, the average time to close a deal can be anywhere between 6 and 24 months. Not a conducive situation for startups that are always gasping for air and are dependent on cash flow to survive.
Tackling the problem head-on
We at Fintech Cadence have been aware of this problem since the very beginning and created the Ascension incubation program in 2018 with the aim to fill the gap, in Quebec, at the grassroots-level. .
Our goal with this program is to help those startups that have an idea and a team, but don't have the expertise to deal with the numerous challenges related to building a fintech or startup – which at the most basic-level could be product-market-fit and navigating the regulatory landscape if we want to talk about the complicated parts.
From the get-go, we provide teams structure & guidance through weekly meetings with experts from the domains of product development, regulations, artificial intelligence etc. All this is done while keeping one primary objective in mind: acquire that first customer and/or obtain seed funding.
A diverse range of fintechs
This year, we aimed for a broad mix of startups in the program, all the way from personal finance management to data aggregation in real estate (often labelled proptech). There's a deeper meaning to this diversity because it demonstrates the ancillary sectors that are emerging out of fintech, and the fact that finance is an underlying service that is common across all industries. Please read our article here for the profiles on the participating startups.
Our focus on diversity wasn't only on the products developed, but also on the teams themselves. Of all the founders and team members, 14 were born outside of Canada and 7 were female members and 2 startups were led by female-only founders. This is a significant improvement compared to previous years, where we didn't have any female-led startup. Also higher than the industry average of 20% female involvement.
The teams were also geographically spread out across Quebec. We had representation from 3 cities across the province: Sherbrooke, Montreal and Quebec City. Proof to the fact that fintech interest is growing and spilling to other parts of the province.
A demo-night with interesting prizes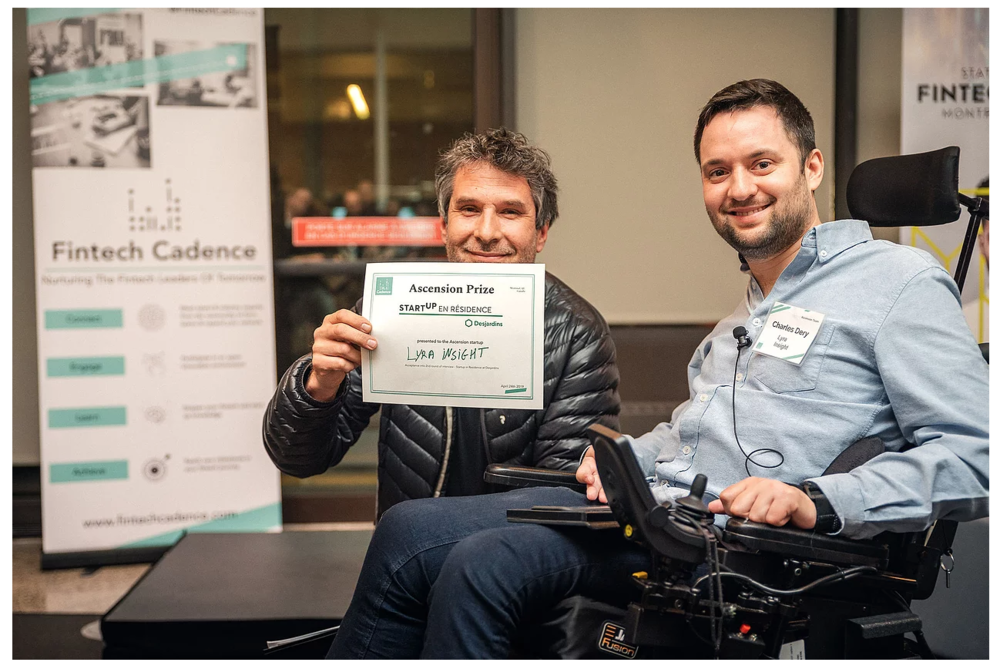 Prizes and the winning teams are among the primary highlights of any demo-night. But at Ascension, prizes also present an opportunity for teams to move to their next milestone – especially funding and improved revenues. Put differently, we wanted (and will in the coming years) to make sure that teams continue and create that multi million-dollar enterprise, with products that everyone appreciates and loves.
According to Olivier Martin,,co-founder of PropFile, "The Ascension program was instrumental in helping us connect with industry experts. At the end of the program, we were hesitant to pitch at the demo-night, but the Fintech Cadence team told us to just go-ahead and do it! It was a great decision and experience. On that night, we won a spot at District 3 Innovation Center and established connections with personnel at Ministère de l'économie et de l'innovation (MEI), who are interested in our startup and solution."
The prizes were as follows:
District 3 Innovation Centre: Incubation space so that startups can continue to work in an environment that promotes entrepreneurship and provides easy access to coaches and mentors.
Winners: PropFile and Lyra Insight + special bonus prizes for Commit Guru and CHK PLZ
Luge Capital: A lunch with the fund's partner (David Nault) and Investment Analyst (Laviva Mazhar). Great way to build a relationship and receive insights on the sector, in addition to guidance and coaching on how to build a robust business plan.
Winners: CRZUS and Lyra Insight
Real Ventures: Lunch with Isaac, General Partner at Real Ventures, where the winner can discuss anything and everything related to building a successful fintech and create a strong relationship with one of the most renowned VC firms.
Winner: Lyra Insight
Desjardins: Acceptance into the second round of the Startup-in-Residence program, that provides the chance to sign a deal with the bank, in addition to continuous coaching and guidance.
Winner: Lyra Insight
Station FinTech Montréal: A cash prize of $1,000 and 2 tickets to Fintech Forum 2019 – where more than 2500 finance and fintech professionals congregate each year to build partnerships and learn about the latest trends in fintech.
Winner: Oxia Initiative
Raymond Chabot Grant Thornton/Catallaxy: Spend 1 hour with the development and product teams at Catallaxy to understand their needs and validate their startup with a potential customer, in addition to a cash prize of $1,000.
Winner: Commit Guru
Holt FinTech Accelerator: Direct entry into the second round and coffee-chat with Jan Arp, one of the managing partners at the firm to discuss the strategic direction of the firm.
Winner: Lyra Insight
The People's Choice Awards presented by Desjardins Lab Coopérathon: For bragging rights! But in all seriousness, serves as a great way to validate a product among the general public.
Winners: Daswealth and CHKPLZ
What's next?
Most of the startups that went through the program are as excited and motivated to build that next fintech unicorn as they were when they entered the program. We will continue to support them as and when needed. For every deal and every round of funds raised, we will give them a shout out!
Moreover, as an ecosystem builder that supports startups and talent-creation activities all the way from grassroots to pre-seed, we are always moving from one activity to the next. On May 29th, we commenced the 3rd edition of our fintech open-innovations program, following which we will lead initiatives to build the best startups during Desjardins Cooperathon. In between, we will organize multiple events to satisfy the palette of all those who want to enter the amazing, promising and dynamic world of fintech. If this interests you, join our newsletter below!