Ask an adept startup entrepreneur about the "hardest part when it comes to building a startup" and the answer is likely to be product-market-fit and customer validation. In fact, a recent study done by CB insights shows that 42% of startups fail because they end up building a product that has no market need. Needless to say, the battlefield is littered with entrepreneurs who did not pay heed to this fact
Open-innovation programs tackle this problem from the get-go by working with corporations to
reveal their most pressing problems. Simply put, an innovation facilitator, such as Fintech Cadence, takes on the task of going to a corporation, charting out a well-defined problem statement, creating a curriculum that imparts the skills and knowledge to solve the problem and then attract the right talent to devise a solution to the underlying problem. To facilitate this, open innovation programs usually have a structured curriculum that imparts knowledge on design thinking, market research, business model canvas, customer mapping, pitching and rapid prototyping.
In Quebec, Fintech Cadence (FC) has been leading the charge for open innovation in the area of financial technology, ever since the first Formathon (open-innovation program) in 2016.
Additionally, our organization has been instrumental in inculcating a spirit of entrepreneurship and developing a penchant for fintech by educating thousands (through our certificate program, coaching and intro to fintech panels), supporting dozens of startups (through our Formathon, Ascension program and Cooperathon Fintech track), and collaborating with finance corporations to identify and solve challenges that they are facing.
What are hipsters, hustlers and hackers?
Before we get to definitions and meanings, one point needs to be emphasized: for innovation to succeed you need to take a multi-disciplinary approach. A famous and witty example involves two different approaches in trying to detect water pollutants underwater – a marine biologist creatively used a bag of clams, while a leading tech corporation with experienced microchip designers struggled to find a solution.
At Fintech Cadence we classify a diverse team through the Hipster/Hustler/Hacker methodology. An emphasis on the fact that innovation is not just about the hacker (programmer/coder/engineer), but also about the hipster (designer/marketer/) and the hustler (business person/relationship builder). Nikola Tesla, for instance, was all hack and no hustle. Thomas Edison, on the other hand, was a combination of both hack and hustle. All this could explain why Edison's innovations saw the light of day in the business world, even though Tesla's inventions were considered more advanced and sophisticated.
A team that is composed of as diverse skill sets as possible tremendously improves the odds of faster and better innovations.
What's going on at Formathon 3.0 this year?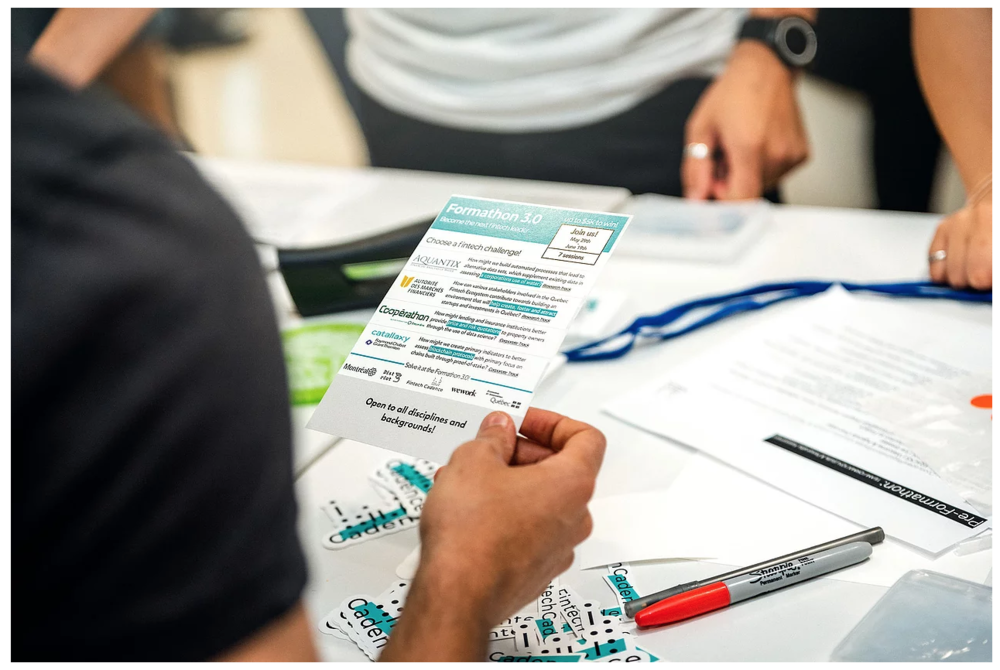 Our primary goal with the Formathon is to always look for problems and challenges that fall in the basket of "pressing concerns" for financial institutions i.e. look for a problem that already has a customer. Other than that, we also aimed to provide a mix of tech, business and design focused challenges.
Below are each of the challenges and the accompanying "how might we?" problem statements.
Autorité des marchés financiers (AMF): How can various stakeholders in the Quebec Fintech Ecosystem contribute towards building an environment that will help create, foster and attract startups and investments in Quebec?

Aquantix: How might we use alternative data to calculate the water usage of industries (and corporations within those industries)?

Catallaxy/RCGT: How might we create primary indicators to better assess blockchain protocols, starting with proof-of-stake algorithms chain?

Desjardins: How might lending and insurance institutions better provide price and risk quotations to property owners through data science?
All of these challenges require more than one specialization to create a viable solution. As an example, the Desjardins challenge on insurance/lending would be suitable for someone with a solid real estate background, who understands the lending process and can advise the machine learning expert on how to build the algorithm.
Is Shopify a fintech?
The third edition of the Formathon kicked off last week, with more than 70 participants vying to build the best solution for the challenges presented above. At the orientation session, Head of Curriculum and RI at Fintech Cadence, Layial-El Hadi, posed an interesting and hot question in the fintech community these days – is Shopify a fintech?
The goal with this question was to make participants realize the ever expanding scope of the word "fintech" and that finance and its various components form the base for more activities around the globe.
One of the participants unequivocally stated that Shopify is not really a fintech. While we agree, it should be made clear that Shoopify does have a strong fintech component. To be more precise, it's an e-commerce firm, with products that focus on payments, and thus fintech. Similarly, Apple is a technology firm, but has a strong presence in "fintech" through it's products in payments: Apple Pay and the Apple Card.
At warp speed
Over the next 3 weeks, more close to 70 participants will go through workshops, held at venues spread around Montreal's bustling innovation ecosystem. At the end, all the teams will pitch their solutions in front of a jury that will pick the best solutions. Cash prizes worth more than $20k are up for grabs!
Following that milestone, winning teams will have the opportunity to continue with the project and eventually build a startup, or get a dream job with the challenge provider.
More than just an open-innovation program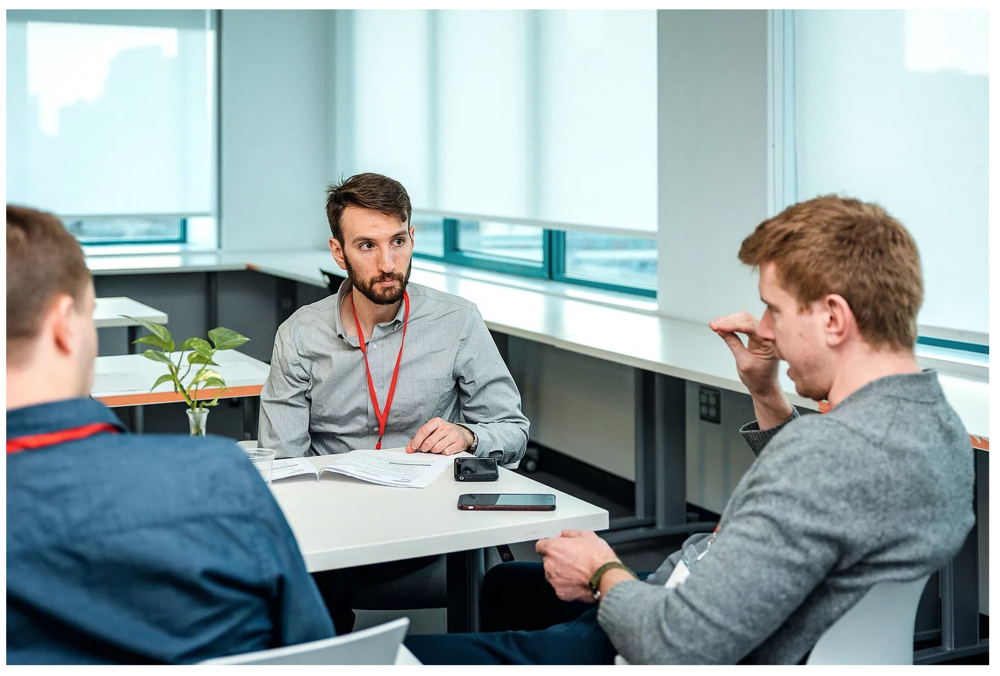 Our primary objective at Fintech Cadence is to build the leaders of tomorrow, whether those be startups entrepreneurs or fintech professionals. The Formathon is more than your typical Hackthon, it's a program that inculcates all the skills needed to be a successful business leader.
According to Niall Heath, Formathon 2018 graduate, "the biggest takeaway for me has been personal development. From day one, I have been exposed to so many things that I have never been involved with before. Going from an architecture background all the way to tech in a space of few months was mind-blowing. Secondly, I have developed as a person who is able to speak in front of a camera, pitch, do design thinking as well as talk to stakeholders who are at a senior level. That would not have been possible without this type of experience."
Thus, we encourage all those who are interested in fintech, entrepreneurship or just enhancing your skill-set to join us on this journey towards manifesting a world-leading fintech sector in Quebec.
Want to know more about our upcoming programs and events? Sign up for the newsletter!